San Diego enjoys payoff for series of refundings
July 10, 2018, 5:22 p.m. EDT
3 Min Read
Register now
San Diego's efforts to refinance debt when interest rates were low are paying dividends, according to Mayor Kevin Faulconer's office, which says the city has refinanced 65% of its outstanding debt since 2015.
"The goal is to get the most value out of every tax dollar," Faulconer said. "By taking advantage of low interest rates, we're paying millions less in debt and can use those dollars in future budgets for top priorities such as streets, parks and neighborhood improvements."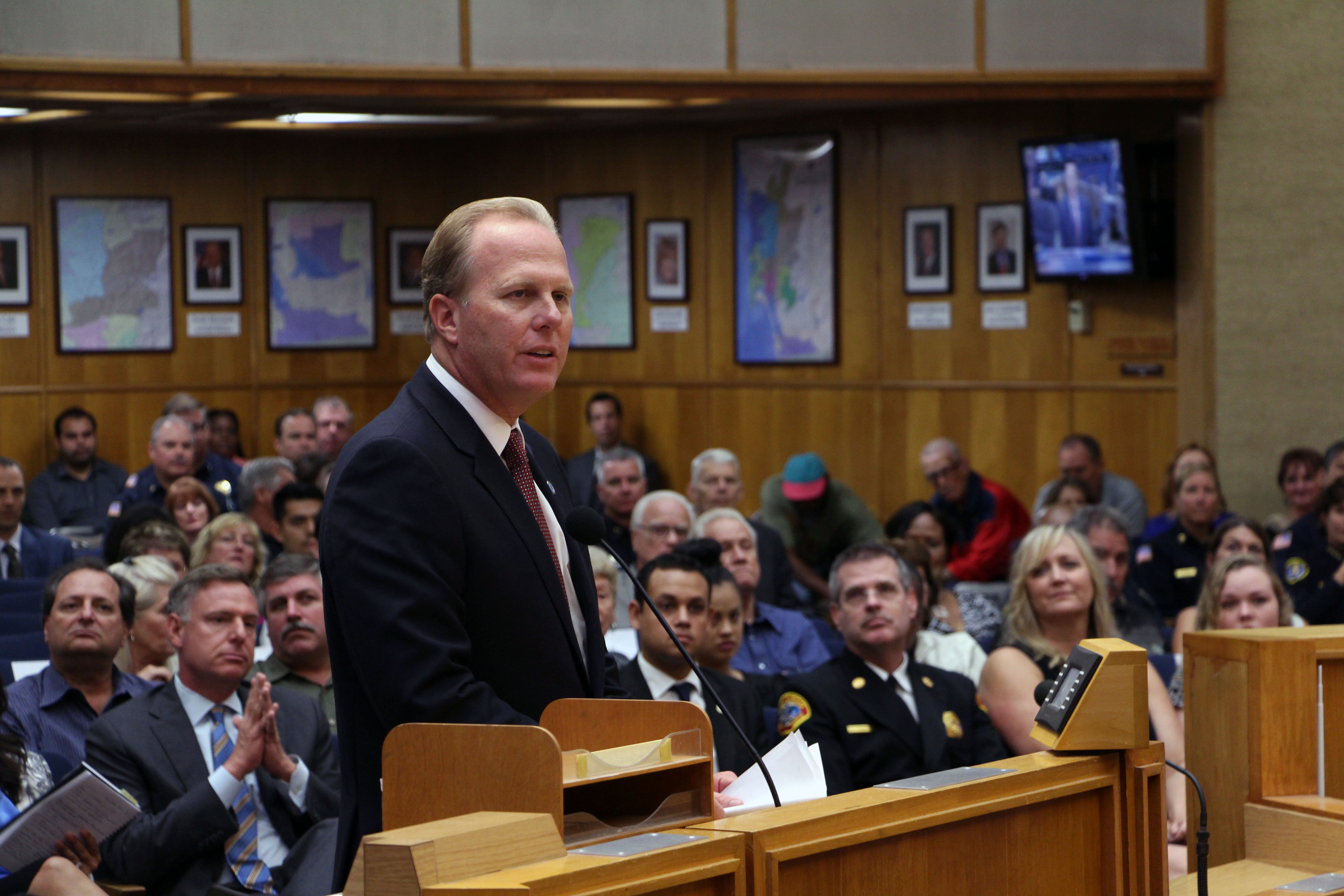 The mayor has made it a priority to capitalize on savings available through bond refundings, said Lakshmi Kommi, the city's debt management director.
"We're continually looking for new ways to improve city finances and then pour those savings right back into our neighborhoods for critical road repair and infrastructure projects," Faulconer said.
The city has conducted eight refundings involving over $2.15 billion in bonds since Faulconer took office in 2015, for a total nominal savings of $460 million on debt maturing from 2024 to 2034.
The city didn't make present value savings numbers available.
The bonds were used to construct Petco Park, redevelopment projects, neighborhood improvements, and various water and wastewater projects.
The city will realize $340 million in savings including $24.5 million from a restructuring of its securitized tobacco bonds in March that lowered rates, Kommi said.
The refundings lowered interest rates to an average of 3.1% from 5.5%, according to city officials.
Two of the sales included refinancings that will save $159.4 million in interest payments on former redevelopment agency bonds, so the savings are split among the county, school district and other taxing entities that lost out on revenue when redevelopment agencies, which were abolished statewide in 2012, borrowed against incremental property tax revenue gains. The city's share of the savings on the RDA refundings was $31.8 million.
Whenever the city issues new debt, it looks for opportunities to refinance, Kommi said.
"Our formal debt policy and my department's policy require me to always be looking for opportunities to refinance into lower interest rates," Kommi said.
The low-interest-rate environment that extended for nearly a decade means "there are no low hanging fruit, but we are continuing to look for opportunities," Kommi said.
Last year's federal tax bill marking the end of advance refundings has made it more difficult, Kommi said.
"It's a very iterative process – and with the tax reform act – that is one thing that could definitely slow us down," she said.
The city refinanced $132.5 million in outstanding deferred capital bonds saving $28.4 million on interest payments in early June. The bonds were sold as taxables – an avenue many cities have taken since advance refundings were eliminated – but Kommi said that option is likely to go away as interest rates rise.
"The one we did in June was precarious, because Treasuries were volatile and municipal bond rates are pegged off of Treasuries," she said. "I am glad we were able to reach our savings target. If we had had to postpone and get it done in August or September, with rates rising, I am not sure we would have succeeded."
The loss of advance refundings likely means more tactical, piecemeal refundings going forward, Kommi said.
One of the more interesting outcomes of the end to advance refundings is that munis are being sold with call options of less than 10 years, even when it means increased cost to issuers, Kommi said.
The shorter call dates are creating price adjustments in the market, she said.
The City Council also agreed last month to create an $80 million commercial paper program for the general fund since the city has been issuing debt more frequently over the last several years to fund active infrastructure programs.
The city has been issuing general fund-backed lease revenue bonds every 12 to 18 months for the last five or six years, so it made sense to create a short-term loan and lock in long-term debt when a critical mass is achieved, Kommi said. Her department is working on the launch of the program her staff recommended to the City Council.
"Why borrow $400 million at long-term interest rates when we can borrow as needed at lower rates?" Kommi said. "It provides financial flexibility as well as being more cost effective."